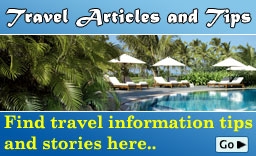 Goa Weather in December

Sunshine
Tempreture varies from 26 to 36 C in December
The search for the perfect beach destination in India leads to Goa. The small state located on the west coast of India is one of the most popular tourist destinations
Things to Do
Activities
Entertainment
Sights
Practical Information
Sangeet Sammelan
The Sangeet Sammelan is one of the most popular events in Goa. Whenever you visit Goa during the event, you will be drawn into a world of music, art and melodies. The ambience of Goa, with its beautiful scenic views, soothing spectacles, colorful festivals and warm people is the perfect inspiration for music lovers to develop their art. It is no wonder that Goa is home to a number of promising musical talents.

The government of Goa recognized the potential of its talented population and decided to organize a common platform that would help upcoming musicians and artists to develop and showcase their talents to the world. For this purpose, the idea of Sangeet Sammelan, Goa was initialized.

The Sangeet Sammelan in Goa has helped a number of artists to understand the depth of their talents better and has helped them polish their musical abilities. To help the participants in this area, the Sangeet Sammelan has over the years invited a number of renowned singers and musicians from the Konkani music fraternity to come and provide support and advice to the Goan musical talents.
There are also a large number of local musical bands in Goa. These bands are formed by the local youths of the state. The Sangeet Sammelan provides a chance for these bands to perform in front of cheering crowds. A number of local bands have attained good publicity and recognition due to this event.

The Sangeet Sammelan is held in the city of Panaji and receives generous support from many individuals and corporate houses apart from the state authorities. The event starts with the inauguration ceremony performed by the Chief Minister. The following programs include introduction of new music bands and singers who perform for the crowds, live. Everyone interested is given a chance to show their talents and elaborate on their ideas.

The Sangeet Sammelan was mainly organized to increase the interest and recognition of Konkani and Marathi talents in Goa. Today, it has almost become like a tradition for the Goan people to attend the Sangeet Sammelan. It has also helped immensely to increase awareness about the importance of Goan culture and art.


Before you quit, may I help you?
Kindly give us your requirement and our travel expert will help you to plan your tour.
Plan my Trip!