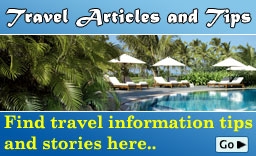 Goa Weather in October

Sunshine
Tempreture varies from 26 to 36 C in October
The search for the perfect beach destination in India leads to Goa. The small state located on the west coast of India is one of the most popular tourist destinations
Things to Do
Activities
Entertainment
Sights
Practical Information
Mardi Gras Carnival
Goa, a state which has got its charm inherited by the Portugese is the land of colorful celebrations and carnivals. Being one of the top tourist spots in the country, Goa has got everything covered. From the pristine beaches to an electrifying nightlife, and further, month long carnivals at the year end, Goa stays crowded for the whole time.

Carnival culture in Goa was first introduced by the Portugese. The very popular among them is the colorful Mardi Gras carnival, which improvises itself year after year. On comparing it with the other places of the world, celebrations of Mardi Gras carnival in Goa does not fail to impress at all. Masks of all themes and colors take on the streets during this extravaganza. Needless to mention, that the carnival turns out a merry-making event all around the state of Goa.

Facts about Goan Mardi Gras

History of the modern Mardi Gras dates back to the old Roman times. Traveling from the medieval Europe, it made its way to the Indian subcontinent. The tradition of Mardi Gras carnival in Goa started long time back, when the state was under the rule of King Momo. It was decided that the carnival will be held just before the Lent season of the Christian Catholics in Goa.

Since then, like the European nations, every year the Mardi Gras carnival has taken place somewhere between February and March in Goa. The starting day of the carnival is called as Fat Saturday, also known as 'Sabada Gordo'. It ends on a Tuesday, which is famous as 'Shrove Tuesday'. For the year 2016, it is expected that this big bash Goa carnival will kick start from 6th of February and will end on 9th of that month.


Before you quit, may I help you?
Kindly give us your requirement and our travel expert will help you to plan your tour.
Plan my Trip!