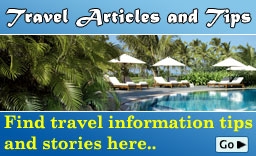 Goa Weather in October

Sunshine
Tempreture varies from 26 to 36 C in October
The search for the perfect beach destination in India leads to Goa. The small state located on the west coast of India is one of the most popular tourist destinations
Things to Do
Activities
Entertainment
Sights
Practical Information
Food and Cultural Festival Goa
Goa is a land of varied festivals and events. To taste the real flavor of Goa, you should visit the state during the days when the food and cultural festival is celebrated in the state. The food and cultural festival in Goa is celebrated annually over a period of 5 days and offers an excellent insight into the culture of Goa.

Goa is known widely for its variety of inventive and mouth watering culinary specialties that satisfy the tastes of tourists from all parts of the globe. The Goan cuisines are a delicate combination of western and authentic Indian culinary traditions. If you are a person who enjoys seafood, the food and cultural festival of Goa will be an ideal time to plan your Goa vacation. Fresh catches from the sea are presented in the form of various tantalizing preparations. Also enjoy a wide range of meat and vegetarian delicacies that will leave you craving for more.
Food and Cultural Festival - Attractions
Everyone from housewives to large hotels take part in the food and culture festival of Goa. Most of the festivities are held on the popular beaches of Goa. A number of stalls are set up by the participating individuals including master chefs from hotels as well as locals competing with each other to offer a range of excellent seafood and other preparations. The stalls are financed through sponsorship raised commercially. Locals and tourists from all parts of the state make it a point to attend this festival to enjoy the seafood specialties as well as other mouthwatering delicacies.

In general there is a lot of partying and merrymaking that goes on alongside the gorging. Tourists are also treated to various cultural programs that are organized to pull in the crowds in hordes.

Other attractions include spectacular firework shows that are lit in the evenings to fill the sky with beautiful designs that you can enjoy as you sip on your favorite wine or beverage and munch on a tasty snack along with your family and friends.


Before you quit, may I help you?
Kindly give us your requirement and our travel expert will help you to plan your tour.
Plan my Trip!