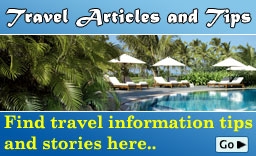 Goa Weather in October

Sunshine
Tempreture varies from 26 to 36 C in October
The search for the perfect beach destination in India leads to Goa. The small state located on the west coast of India is one of the most popular tourist destinations
Things to Do
Activities
Entertainment
Sights
Practical Information
Bonderam Festival Goa
Goa is lively, be it night or day. But there is something special that hits the state with even more enthusiasm, Bonderam Festival. The festival falls in the fourth Saturday in the month of August, every year. This festival is amongst the major festivals of Goa.
History of Bonderam Festival
During the era of Portuguese invasion, Goa faced many brutal battles between Sao Mathias and Piedalda. These were the two wards of Divar Island Village. Main reason behind this enmity was land ownership. The feuds got harsher as the days went by and started creating a massive tremor in and around the area. Taking this in mind, Portuguese government decided to separate there areas of land by marking them with colorful flags. This act was actually intended not only to settle the feuds, but to encourage them towards love and forgiveness. But, the villagers were fierce and unstoppable and decided to tear off the flags. And so they did.
This story might sound like a merry-go-round. But, as the time flew, the villagers started having their hearts melted and started living in peace and harmony. Today, Bonderam festival is a sort of apology of these wards, to each other, for what their ancestors did.
Initially, it was only celebrated within the community but today, it has gotten to a point that people from different parts of the world visit Goa specially to attend this festival.
Celebration of Bonderam Festival
The festival starts off with soothing music. Later in the afternoon, a special parade is organized, where both the parties represent their community and do their best to outshine. Apart from this, there are mock fights, enacting the actual battles of the bygone era. All the activities and events of this festival is enthralling and engaging. This festival and all its community based activities let both the community know about each other well and respect their cultures.
Before you quit, may I help you?
Kindly give us your requirement and our travel expert will help you to plan your tour.
Plan my Trip!