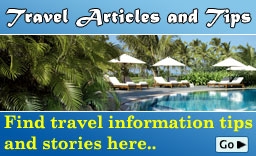 Goa Weather in March

Sunshine
Tempreture varies from 26 to 36 C in March
The search for the perfect beach destination in India leads to Goa. The small state located on the west coast of India is one of the most popular tourist destinations
Things to Do
Activities
Entertainment
Sights
Practical Information
Water sports and adventure
Among the most important tourist attractions in Goa, the water sports and adventure activities top the list. Tourism in Goa is predominantly dependent upon the beaches of the state which are among the most popular ones in India. These beaches offer a wide range of entertainment among which the water sports are the foremost. Keeping pace with the tremendous growth of tourism, there has been a great surge in the facilities for water sports at most of the well known Goan beaches. The uniform climate of Goa and the safe beaches are perfect for enjoying these water sports.
Water sports in Goa :
The water sports in Goa include the following -
Water Skiing :
This is one of the most popular sports among the tourists. Water skiing at high speeds is a test of balance, and is a lot of fun as well. Most popular beaches have facilities for water skiing.
Wind surfing :
Dona Paula is ideal for beginners in this sport. Wind sailing requires balance as well as maneuvering skills, and is quite popular as a sport. You can get trained for this at the major beach destinations in Goa.
Dinghy Sailing :
For the lovers of slow, leisurely sailing on the open sea, many beach resorts in Goa offer dinghy sail boats that accommodate 3 -4 people.
Scuba Diving :
Goa is suited for scuba diving. The visibility under water is quite good, up to 10 meters at places. This has led to its popularity. Gera and training are available at most of the beaches and resorts. Some private operators specialize in scuba diving tours.
Angling, Para sailing, Speed boating, and swimming are the other water sports you can look forward to in Goa. The water scooter is also a popular option, available in the popular beach resorts like Dona Paula, Majorda, Baga and Candolim.
Adventure activities in Goa :
The other adventure activities to look forward to in Goa include trekking, rock climbing, and wildlife safaris. Goa has a varied terrain, and there are hilly areas as well as dense forests in the state. These offer great opportunities for the adventure buff.
The wildlife parks like the Bhagwan Mahavir sanctuary, the Cotigao Sanctuary, the Salim Ali Bird Sanctuary, and the natural caves and hills of Goa are wonderful adventure tourism destinations.