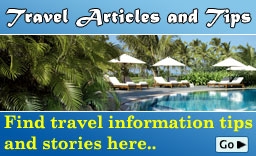 Goa Weather in June

Sunshine
Tempreture varies from 26 to 36 C in June
The search for the perfect beach destination in India leads to Goa. The small state located on the west coast of India is one of the most popular tourist destinations
Things to Do
Activities
Entertainment
Sights
Practical Information
Valpoi Goa
Valpoi is a small village located in the Sattari taluka in north Goa. This quaint place is known for a number of temples and the festivals celebrated here. Valpoi is among the well known cities and villages in India and showcases remains from the Portuguese past that entire Goa has. Tourists looking to go off the beaten track will find this place an interesting spot where you will be able to get a first hand experience on the village life of Goa. The name is derived from two words - Val, meaning River, and Poi, meaning the other side.
Attractions:
Temples : the Maruti temple is a famous temple in this part of Goa. It is also the oldest among the four temples here. The festivals of Sarvajanik Ganeshotsava, Ramanavami and Holi are celebrated with a lot of enthusiasm here. The nearby village (7 km) of Brahma Carambolim has a 5th century Brahma temple, one of the few in India. There are five mosques in the village.
Rede Ghati is a famous hunting ground near the village which is frequented by the villagers and tourists. There is a ruined fort located near the Mangal bazaar market. It is called Nanus fort and dates back to 17th century AD. The fort was built by Shivaji, but was eventually taken over by the Portuguese.
The Veluz Nagargaon Bridge in the Valpoi village in Goa is considered a tourist spot. This bridge was built in 1932
Access:
Air: Dabolim airport is the nearest airport that connects Goa to the other parts of the country. The distance is about 37 kilometers.
Railway : the Tivim railway station is located about 30 kilometers away, while the Margao railway station is located about 34 kilometers away, towards the south.
Road : Panaji is located about 34 kilometers from Valpoi village. You can get buses and taxis to Valpoi from Panaji or Margao.
Before you quit, may I help you?
Kindly give us your requirement and our travel expert will help you to plan your tour.
Plan my Trip!