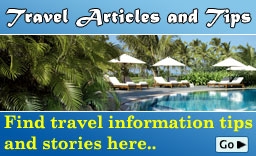 Goa Weather in June

Sunshine
Tempreture varies from 26 to 36 C in June
The search for the perfect beach destination in India leads to Goa. The small state located on the west coast of India is one of the most popular tourist destinations
Things to Do
Activities
Entertainment
Sights
Practical Information
Tiracol Goa
Tiracol is located at the northernmost tip of Goa. It is known for the Tiracol fort which has been converted into a famous hotel, the Hotel Tiracol Heritage. The fort was built by the Portuguese for the defense of this part outdoor games Goa. It is built on the banks of the Tirakhol River.
Attractions:
The chief tourist attraction in Tiracol is, of course the 16th century fort. The fort was captured by the Portuguese i the 18th century. It is perched high on a cliff top and offers magnificent Panoramic views of the surroundings. The Keri beach and the Tiracol estuary make up the scenic surroundings of the fort. The sea and the greenery around it present a truly spectacular sight. Watching the colors of the sky change hues at sunset is a most enchanting experience. A magnificent statue of Jesus Christ stands just outside the St. Anthony's chapel on the church square.
The fort was used as a base of the liberation movement of Goa in the late 1950s.
The Tiracol Fort Heritage in Goa is a famous heritage hotel that has come out of the old fort. It offers a fine blend of historic ambience and contemporary comforts.
Pernem is a beautiful village located near Tiracol on the northern tip of Goa. The area has a pristine, yet untouched by tourism beaches, although backpackers are seen occasionally. The vibrant market and the temples are among the major attractions here. The Bhagwati Devi temple is said to be over five centuries old.
Arambol is a quiet beach resort located a short distance from Tiracol. It is ideal for short day long excursions and quiet holidays.
The Querim beach is yet another peaceful beach located close to Tiracol.
Access:
By air : Dabolim Airport (72 kms) is the nearest airport.
By rail : Sawantwadi and Pernem are the nearest railway stations.
By road : Buses leave Mumbai, Mapusa, and Pernem will bring you to Tiracol. You can also hire taxis from the nearby places like Arambol and Chapora.
You may cross the Arondem River on ferry and walk the rest of the way, around 4 kilometers. The route is beautiful, lined by paddy fields and bright red laterite houses.
Before you quit, may I help you?
Kindly give us your requirement and our travel expert will help you to plan your tour.
Plan my Trip!