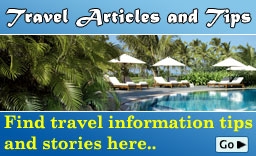 Goa Weather in June

Sunshine
Tempreture varies from 26 to 36 C in June
The search for the perfect beach destination in India leads to Goa. The small state located on the west coast of India is one of the most popular tourist destinations
Things to Do
Activities
Entertainment
Sights
Practical Information
Ponda Goa
Ponda is famous as a Hindu pilgrimage site in Goa. The city was part of the Bijapur kingdom, but was lost to the Portuguese in the late 18th century. The idols from various temples destroyed by the Portuguese during the infamous inquisition were brought here for safekeeping. Today, Ponda is a well known tourist spot visited by numerous pilgrims. Besides many temples, Ponda also has the largest mosque in Goa. Ponda is also the gateway to two of Goa's wildlife reserves. The city also has many factories and industrial estates.
Attractions:
Manqueshi temple : the most famous temple in Goa is dedicated to Lord Manquesh, an incarnation of Lord Shiva. The deity was shifted from Cortalim in the mid 16th century to avoid destruction by the Portuguese.
Mahalsa temple : this famous temple is dedicated to Goddess Mahalsa. The deity was shifted from the village of Verna. The Six storied 'Deepstambha' or ornamental lamp pillar is the chief attraction of this temple.
Sri Ramnath Temple : believed to have been established by lord Rama himself, this temple is also dedicated to lord Shiva. It is located in the Bandode Village in Ponda.
The Naquesh temple and the Devaki Krishna temple are among the five famous temples of Ponda.
Safa Masjid : this mosque is the largest in Goa, and among the 27 mosques built by sultan Adil Shah around Ponda. It is a revered structure among the Muslims of Goa and is visited by numerous devotees.
Bondla Wildlife Sanctuary : this is a nice place to enjoy a picnic or an excursion. It is the smallest wildlife reserve in Goa. The forest has a botanical garden, a rose garden, a zoo, and a deer park.
The Mahavir wildlife sanctuary is another wildlife destination near Ponda.
Access:
Air : Dabolim is the nearest air port (23 kilometers).
Railway : Margao railway station (17 kilometers) provides the nearest rail access.
Road : Ponda is located 28 kilometers from Panaji. The NH 4A connects Ponda to Panaji.
Before you quit, may I help you?
Kindly give us your requirement and our travel expert will help you to plan your tour.
Plan my Trip!