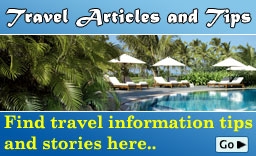 Goa Weather in June

Sunshine
Tempreture varies from 26 to 36 C in June
The search for the perfect beach destination in India leads to Goa. The small state located on the west coast of India is one of the most popular tourist destinations
Things to Do
Activities
Entertainment
Sights
Practical Information
Old Goa
The former capital of the Portuguese territories, Old Goa, also known as Velha Goa, was founded in the 15th century as a sea port for the Vijayanagar and Bahamani kings. It was the second capital of Bijapur. The city was surrounded by a moat and contained Adil Shah's palace, mosques and temples. It came under the Portuguese Rule from 1510 to 1961. It is designated as a World Heritage Site by UNESCO such as St. Cathedral, St. Francis of Assisi, St. Caetano and the Basilica of Bomb Jesus.
Attractions:
Churches : The churches of old Goa are among the best known tourist attractions in Old Goa. These churches reflect the evolution of Christianity in Goa and must be visited during a tour of north Goa.
The important churches in Old Goa are -
Basilica of Bom Jesus : This basilica is dedicated to baby Jesus. Featuring magnificent baroque architecture, this world heritage site is one of the prime attractions in north Goa. The church is especially important since it houses the mortal remains of St. Francis Xavier, the patron saint of Goa. His body is brought out on the occasion of 'exposition' held once every decade. This is among the holiest Christian occasions in India.
Se Cathedral : It is the seat of the Archbishop of Goa. It is one of the largest Asian churches and is dedicated to St. Catherine of Alexandria.
Church of St Francis of Assisi and the Church of S. Caetano are the other notable churches of Old Goa.
Viceroy's Arch:
Built by Viceroy Francisco da Gama, this arch was restored in 1954. The statue of Vasco da Gama tops the arch. It is built of laterite, and all the viceroys of Goa were given the ceremonial key to Goa after a procession under the arch.
Archaeological Museum:
This museum has been set up by the archaeological Survey of India in the convent of St. Francis of Assisi. There relevant authorities 8 galleries that display paintings, and artifacts dealing with the history of Goa.
Access:
Air : Dabolim is the nearest air port (29 kilometers)
Railway : Karmali is the nearest railway station.
Road : Buses from Panaji's KTC bus stand pass old Goa en-route Ponda. Auto rickshaws, taxis and bikes are available from Panaji to old Goa. Panaji is just 9 kilometers away.
Before you quit, may I help you?
Kindly give us your requirement and our travel expert will help you to plan your tour.
Plan my Trip!