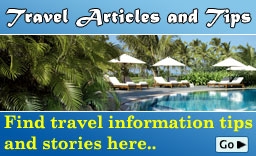 Goa Weather in June

Sunshine
Tempreture varies from 26 to 36 C in June
The search for the perfect beach destination in India leads to Goa. The small state located on the west coast of India is one of the most popular tourist destinations
Things to Do
Activities
Entertainment
Sights
Practical Information
Mormugao Harbor Goa
Located about 4 kms from the port city of Vasco da Gama and 34 kms from Panaji, Mormugao Harbor is one of the famous natural harbors on the west coast of the Indian subcontinent. Located on the mouth of the river Zuari, Mormugao is among the well known cities & townships in Goa. Tourists are drawn to the town by its pleasant atmosphere, old-world charm, the spectacular beaches, and the scenic sunsets.
Built by the Portuguese in 1624 as a fortified town on the headland overlooking Mormugao harbor, Mormugao in Goa is an indication of Portuguese maritime supremacy in the 17th century. The harbor is served by the Zuari River and Mandovi River.
A hub of immense maritime activity, Mormugao harbor handles passenger and cargo ships from the world over. It handles mineral ore, coal, petroleum, and international containers. The harbor possesses facilities for pilotage, lighterage, towage, bunkering, loading, unloading, warehousing, transit sheds, freightage, medical aid and supplies.
Tourist Attractions in Mormugao Harbor:
Mormugao Fort : Located near the Mormugao Harbour, this fort was originally built to protect the harbor. Its construction work began in 1624. One of the monuments worth visit in this part of Goa, the fort extended over an area of 6 miles in circumference, and featured high bulwarks, five prisons, three magazines, a chapel and quarters for the guard. Mormugao Fort contained 53 guns and a garrison with 4 officers. However, much of the fortress is in ruins today, with only the chapel and a portion of the boundary wall left intact.
Varca Beach : located 2 km south of Benaulim, Varca Beach is one of the main destinations to head for while at Mormugao. Abounding in pristine natural beauty, the soft white sandy beach is a major draw for tourists here. Explore the palm thatched houses dotting the beach, and indulge in exciting activities like dolphin watching & boat trips at Varca.
Access to Mormugao Harbor:
By Air : the Dabolim Airport lies 4 km southeast of Vasco da Gama, and is hence easily accessible from Mormugao.
By Rail : the nearest railway station is at Vasco da Gama, which connects Mormugao well with other parts of Goa as well as with neighboring states.
By Road : if you are arriving by bus from Panjim or Margao, drop off at the Kadamba Terminus, which lies 3-km east of Vasco. You can reach Mormugao by ferry from Vasco.
Before you quit, may I help you?
Kindly give us your requirement and our travel expert will help you to plan your tour.
Plan my Trip!