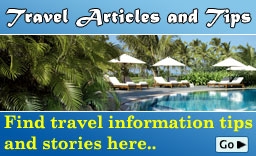 Goa Weather in August

Sunshine
Tempreture varies from 26 to 36 C in August
The search for the perfect beach destination in India leads to Goa. The small state located on the west coast of India is one of the most popular tourist destinations
Things to Do
Activities
Entertainment
Sights
Practical Information
Se Cathedral Goa
Se Cathedral is surely the most prominent of all the churches in Goa. This is a huge church and the architecture is truly unique. Along with the other famous churches of Goa, the Se Cathedral is a major attraction of tourism in Goa.
History:
The history of Se Cathedral can be traced back to the era of Dominicans. The Dominicans were the first missionary group that was sent by the Portuguese to India. Dominicans were actually the chaplains and they were brought to India by Alfonso de Albuquerque, the Portugal naval general.
Architecture:
Se Cathedral has always been known for its unique architecture. This cathedral was designed by the stalwart engineers, Ambrosio Argueiro and Julio Simao. The Cathedral exhibits the power, fame and wealth of the colonial Portuguese. The church has got high ceilings and the structure is majestic enough to mesmerize you all. The west facing cathedral's 98 ft high facade is worth watching. The facade exhibits the Portuguese Manuelin style. The Corinthian style is quite prominent in the interiors of the church especially in the lofty towers. The major attractions of Se Cathedral are the 15 altars, dedicated to Our Lady of Anguish, Our Lady of Three Needs or Our Lady of Hope. The grand alter is dedicated to St. Catherine of Alexandria. The main altar is highly ornate and one should explore the fascinating curves depicting the major events of the life of St. Catherine. The Cross of Miracles and the Chapel of the Blessed Sacrament have been artistically embellished.
Location:
The Se Cathedral faces the Basilica de Born Jesus. It is very easy to reach Old Goa which is right on the bank of Mandovi River, to the eastern corner of Tiswadi Taluka, Central Goa. The best option to reach Se Cathedral will be to opt for a car or hire a taxi which will take up the National Highway 4A that connects Ribander Causeway with Ponda. Most often the travelers try to access Old Goa from Panaji which is just 9 kms away from Old Goa. You can also avail the ferry services.