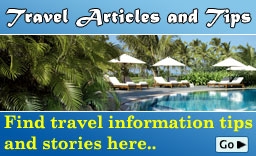 Goa Weather in August

Sunshine
Tempreture varies from 26 to 36 C in August
The search for the perfect beach destination in India leads to Goa. The small state located on the west coast of India is one of the most popular tourist destinations
Things to Do
Activities
Entertainment
Sights
Practical Information
Rachol Seminary Goa
Also known as the Patriarchal Seminary of Rachol, The Rachol Seminary is a major tourist attraction and is visited by many tourists every year. The place is well-known for its religious significance which is the considered the reason behind promotion of Hinduism, Islam and Christianity in Goa.

Going Back to the History:
Built long back in 1576, Rachol Seminary was initially a Muslim fortress and it was later converted into a church by the Portuguese. Later, it was changed to a prison. It was the 16th century when The Rachol Seminary in Goa was considered a seminal center for theological studies. It was finally transformed in the year 1576 into a church where the Jesuit order is maintained.
In the year 1762, the building was converted into a Diocesan seminary. The seminary is known to house the first version of the printing press where Christian religious literatures were produced. The press managed a production of 16 books and the most prominent of them was the Gospels translation to an Indian language. In the same context, it has been said that some Hindu sculptures were found when the seminary was under construction. The seminary has played a key role in promoting Christianity in India right from its inception. There are many renaissance paintings displayed in the great hall of the Rachol Seminary.
Enthralling Architecture:
The Rachol Seminary is visited by tourists all the year. The reason truly is its unique architecture. You will find a very well carved statue of Saint Constantine, the first Roman Emperor who got converted to Christianity. It also has an amazingly carved and gilded main altarpiece which will make you visit the place again. The seminary housed the Museum of Christian Art which displayed the church artifacts and these were collected from all corners of Goa.
Location:
Rachol is located at a distance of 7 kms from the commercial town of Margao. Raia is a small village in Rachol and you can pay a visit to the seminary on the top of a small hillock in that village. The Rachol seminary is surrounded by the rice fields and the remains of an old Muslim fort.