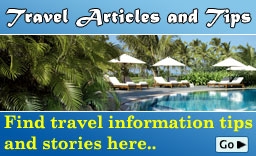 Goa Weather in January

Sunshine
Tempreture varies from 26 to 36 C in January
The search for the perfect beach destination in India leads to Goa. The small state located on the west coast of India is one of the most popular tourist destinations
Things to Do
Activities
Entertainment
Sights
Practical Information
Professed House and the Basilica of Bom Jesus
Professed House and the Basilica of Bom Jesus is surely among the world famous churches of Goa and it enjoys quite a significant position in the context of history of Christianity in Goa.
History:
The Professed House and the Basilica of Bom Jesus gets recognized as the first church in India which enjoyed the status of a minor Basilica. The construction began in 1594 and on 15th May 1605, the church was inaugurated by Dom FR. Aleixo de Menezes, the Archbishop. Since then, it has remained the most popular church in Goa and it is dedicated to baby Jesus. The major attraction of the church is the body of St. Francis Xavier which was transferred from St. Paul's church after the body was canonized in 1662. The church allowed public viewing every ten years and this major religious event is attended by pilgrims from all the corners of the world.
Architecture:
The Professed House and The Basilica of Bom Jesus has been declared a world heritage site and the structure is considered to be a fine example of Jesuit architecture. It is a double storeyed structure and just like other old churches in Goa, it has also been made out of laterite. The facade of the church is a fascinating amalgamation of Corinthian, Ionic and Doric styles and this fusion is quite prominent in the columns. In short, the Professed House and the Basilica of Bom Jesus exhibits the Renaissance Baroque style. One should not miss out the art gallery. It is the most ancient and largest Asian art gallery. The sound and light show would surely enrich your knowledge about the life of Blessed Joseph Vaz, St. Francis Xavier and most importantly, Christ. The art gallery displays 36 splendid oil paintings of the 20th century.
Location and Access:
You will find this church in the central zone of Old Goa, the medieval town on the banks of Mandovi River. The church is facing Se Cathedral and is easily accessible. You can just hire a car and take up NH 4A. This national highway connects Ribander Causeway to Ponda. You will enjoy the drive along the eastern bank of Mandovi River. The church is open for visitors from six in the morning till six thirty in the evening.
Before you quit, may I help you?
Kindly give us your requirement and our travel expert will help you to plan your tour.
Plan my Trip!