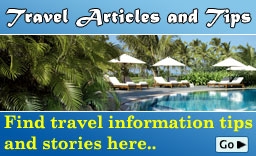 Goa Weather in January

Sunshine
Tempreture varies from 26 to 36 C in January
The search for the perfect beach destination in India leads to Goa. The small state located on the west coast of India is one of the most popular tourist destinations
Things to Do
Activities
Entertainment
Sights
Practical Information
Church and Convent of St. Monica
The "Rome of the East" - Goa, is home to many beautiful churches. Your trip to Goa is incomplete without visiting the various churches in Goa. One of the oldest Goan churches is the Church and convent Of St. Monica. This was also the first convent for nuns in the state.
History:
On July 2, 1606, Archbishop Dom Frei Alexio de Menezes laid the foundations of the convent, after its sanction in 1598. The church was completed in 1627. The convent, an imposing three storey structure could accommodate about 100 nuns. Widows and destitute women often found shelter within the church.
There was a strange custom of baptism in the Church and Convent of St. Monica. In front of the entrance of the nunnery stood a turntable with a hand bell nearby. Often illegitimate children were left here and the bell was rung. The Rodeira on hearing the bell would turn the table and take the child in. The child was then baptized. Today all traces of the turntable have been erased.
Architecture:
The Church and Convent of St. Monica is combination of different architectural styles. The interior of the church is a blend of composite and Doric styles, whereas the outer architecture bears evidences of Corinthian, Tuscan and composite styles. There is a statue of Saint Monica over the main entrance, supported by three reinforcements.
The central area of the church has two divisions. One part houses the main part of the church. There are two side altars, one dedicated to Divine Jesus and the other to Virgins Africans. The main altar is dedicated to Saint Monica and even has an image of the latter on top.
The church has huge corridors; a palazzo style building that houses the nun's cell, and dungeons. The vaulted ceilings and the courtyard all add to the awe inspiring ambiance of the church.
Location:
It is located near the Chapel of St Anthony on the Holy Hill of Old Goa.
Access:
You can take taxis, auto - rickshaws and buses from Panaji to reach Old Goa, where the church is located.
Before you quit, may I help you?
Kindly give us your requirement and our travel expert will help you to plan your tour.
Plan my Trip!