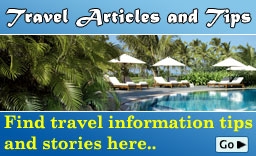 Goa Weather in August

Sunshine
Tempreture varies from 26 to 36 C in August
The search for the perfect beach destination in India leads to Goa. The small state located on the west coast of India is one of the most popular tourist destinations
Things to Do
Activities
Entertainment
Sights
Practical Information
Church & Convent of St. Francis of Assisi
The Church and Convent of St. Francis of Assisi would surely be a fantastic site for those who nurture an interest to know the history of Christianity and its growth in Goa.
History:
The Church and Convent of St. Francis of Assisi was set up in the year 1521. Franciscan friars were the first group that ventured into the act of building churches and convents in Goa in 1517. The church is connected with Se Cathedral at the convent. The Church and Convent of St. Francis of Assisi was originally a chapel. It was in 1512 that the chapel was converted into a church. The church was given a new look in 1661, though the carved black stone gate was retained. In 1529 the convent was rebuilt. The convent was retained as a group of cells which were constructed by Friars. The Portugal government did not take the charge of the maintenance of the convent and the convent was closed down in 1835. The convent building was turned into an archaeological museum in 1964.
Architecture:
The Church and Convent of St. Francis of Assisi is a lime plastered structure made out of laterite. The octagonal towers on either side of the facade are worth watching. The doorway reflects the Portuguese Manueline style. Do not miss out the statue of St. Francis made out of wood and the statue of Our lady of Miracles brought from Jaffna, Sri Lanka. The interior of the Church reflects the Mosaic Corinthian style. The illustrated scenes from Bible on the walls of the church are among its noted features. One will find a sacristy along with a belfry at the northern corner of the main altar. The frescoes on the walls exhibit refined floral designs. The altar of St. Francis is a highly decorated one and it reflects the Corinthian Baroque touch. It would be a really memorable experience to go through the illustrated instances from the life of St. Francis and paintings of Christ's birth as you explore the various corners of the church.
Location and Access:
The Church is nestled in the compound of Se Cathedral, in the heart of Old Goa. One can reach Old Goa by motorcycle, taxi, auto- rickshaw or by bus. One has to travel just 10 kms from Panaji to reach Old Goa.