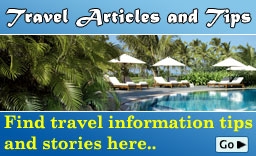 Goa Weather in August

Sunshine
Tempreture varies from 26 to 36 C in August
The search for the perfect beach destination in India leads to Goa. The small state located on the west coast of India is one of the most popular tourist destinations
Things to Do
Activities
Entertainment
Sights
Practical Information
Chapel of St. Francis Xavier Goa
Churches are one of the prime tourist attractions of Goa. The beautiful architecture and the historical background of the Goa churches make them so special. The Chapel of St. Francis Xavier is one of the most visited churches in Goa and also a prominent tourist attraction.
History:
As the name suggests the Chapel of St. Francis Xavier, is dedicated to St Francis Xavier. Santo Padre, as he was referred to, is believed to have built this chapel himself. It is believed that he would conduct mass here regularly. Some others, however, are of the opinion that the church was constructed in honor of St. Francis Xavier, after his death. Another interesting historical belief, related to the church, goes that, it was one of the two chapels that once stood on the garden of St Paul's college. The latter was a prestigious college of Old Goa, located behind the chapel.
Architecture:
The architectural style of the Chapel of St. Francis Xavier borrows from the Doric style. Laterite plaster and lime mortar has been used for the construction of the church. The tiled roof of the church is supported by wooden rafters. The simplicity of the church adds to the charm of the place. There is just one altar, made of the same lime mortar mix and plastered with laterite, as the rest of the church. There are scripts, which endorse the fact that the church was dedicated to St Anthony or St Jerome, the two chapels of the garden of St Paul's college.
Location:
The church is situated on the banks of river Mandovi, on the eastern side of Tiswadi Taluka, in central Goa. If you follow the main road, the junction where it turns off to the Kuchcha road is the location of the church.
Access:
You can drive down along route NH 4 A, starting from Ribander Causaway. The road branches off in the east, and runs along the Mondovi River. Buses, auto rickshaws, and taxis are available from the nearby cities.