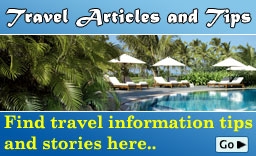 Goa Weather in August

Sunshine
Tempreture varies from 26 to 36 C in August
The search for the perfect beach destination in India leads to Goa. The small state located on the west coast of India is one of the most popular tourist destinations
Things to Do
Activities
Entertainment
Sights
Practical Information
Chapel of St. Catherine Goa
While touring through Goa, a visit to the Chapel of St. Catherine is a must. The historical importance of this 16th century church in Goa is one of the main reasons that lures many visitors to it. This chapel has been built over one of the cathedrals of Goa.
History:
The construction of the Chapel of St. Catherine has an interesting history linked to it. In 1510 Alphonso Albuquerque, built a chapel in this very place, where the present day chapel stands today, to mark his conquest over Goa. Alphonso conquered Goa on St Catherine's day. So the chapel was dedicated to St Catherine. Pope Paul III upgraded it to cathedral status in 1534. This is the same place, where the gates to the city were located, when Goa was under Muslim rule. It remained a cathedral before being rebuilt. The chapel was rebuilt over the remains of the earlier structure in 1552. This came two years after a slab was put up by Governor George Cabral. The slab states the historic event that marked Alphonso's entry into the city through the "gateway of Goa", and his conquest.
Architecture:
The church is an example of Renaissance architectural style. You can see two towers, standing on either side of the main entrance. The limestone and laterite plastered walls of the church houses a beautifully gilded altar. This is the main altar of the church. Inside the church, you get glimpses of different art works. There are paintings, which tell you the story of St Catherine of Alexandria. There is also an art gallery in the church, which you can visit.
Location:
The Chapel of St. Catherine is located in Old Goa, to the east of the Archaeological Museum. From the Church of St Francis, if you follow the narrow road, leading in the western direction, you will come across the chapel.
Access:
Old Goa is easily accessible from Panaji, through buses and taxis. You can hire a motorcycle or take an auto rickshaw to reach the chapel.