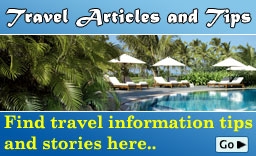 Goa Weather in August

Sunshine
Tempreture varies from 26 to 36 C in August
The search for the perfect beach destination in India leads to Goa. The small state located on the west coast of India is one of the most popular tourist destinations
Things to Do
Activities
Entertainment
Sights
Practical Information
Chapel of Our Lady of the Mount
Perched at a great height, this imposing Chapel gives the best shot of the city and an exceptionally engaging view of the sunset. A series of rough staircase leads to this Chapel which is made of laterite plaster. This is a much sanctified and iconic spot in South Goa and can be spotted even from a kilometer away. The church is dedicated to Our Lady of Mount, St. Anthony and St. Andrew.
History:
The church was built in 1510 by Alphonso De Albuquerque to commemorate his triumph over a Muslim ruler Sultan Adil Shah. Sultan Adil Shah on the other hand had defeated the Portuguese to mark his throne. The Church has undergone many renovations and constructions since then, in order to maintain its charm with the growing time.
Architecture:
The Chapel of Our Lady of the Mount in South Goa is made up of laterite plaster. There are series of rough staircase which leads to this large imposing building. The church has three vaults; one is for Our Lady of Mount and the other two are for St. Anthony and St. Andrew.
The hall has a staircase platform made of mezzanine for the choirs to sit. On the eastern side is the main sanctuary with Sacristy and the Vestry beside it.
Location:
The Chapel is located 2km away from Old Goa.
When you are on the road to Ponda, turn for the Kuchcha road. There will be cross which will indicate the turn. As you would move further, you can spot the Chapel from a distance.
Access:
Buses and taxis are easily available for and around the Chapel. You can also hire your own vehicle on rent, which is easily available around Goa.