Water Sport Activities in Goa for a wonderful Holiday
"Water water everywhere not a drop to drink"- not sure about drinking, but you definitely are in Goa for its beaches and Arabian Sea. The ocean has a lot to offer, and here you can make the most of it, by losing yourself in the unforgettable experience of water sports. Spending precious time of your holiday or honeymoon in Goa is going to be a delightful indulgence. Let's know more about water sports activities and adventure in Goa.
1.Scuba Diving
Scuba diving is when you dive inside the ocean with an underwater oxygen apparatus. This is an unforgettable experience for sure, as the land beneath the ocean is adorned with coral reefs, gardens and beautiful marine species. Visibility inside the water here is up to five meter and as far as you can see there will be sheer beauty of marine paradise. You don't have to worry about safety because you will be given minutest details and instruction before the session.
Locations: St. George Island, Devagh Island, Pigeon Island and Grande Island.
2.Wakeboarding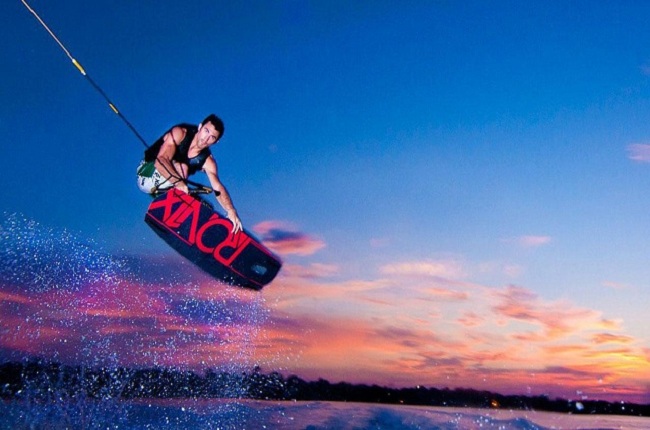 Wakeboarding is influenced by the techniques of surfing, water skiing and snowboarding. The person stands on a wooden board on the surface of water; this board is pulled by a boat with the help of a string. This activity requires speed, wind and focus on balance, but is easier than water skiing. Wakeboarding is an enthralling activity to try.
Locations: Candolim Beach, Rajbaga Beach and Mabor Beach.
[ Plane your Goa Honeymoon Tour]
3.Kneeboarding
Kneeboarding is a new water-sport activity and is similar to wakeboard and waterskiing. This is much simpler though. The technique stays the same; a string attached to the boat pulls you forth. But in knee boarding, there is no board, but a knee-holder. There surely are some skills required by this game for a safer experience and before you embark you will be told about all the measures.
Locations: Rajbaga Beach, Candolim Beach and Mobor Beach.
4.Paddleboarding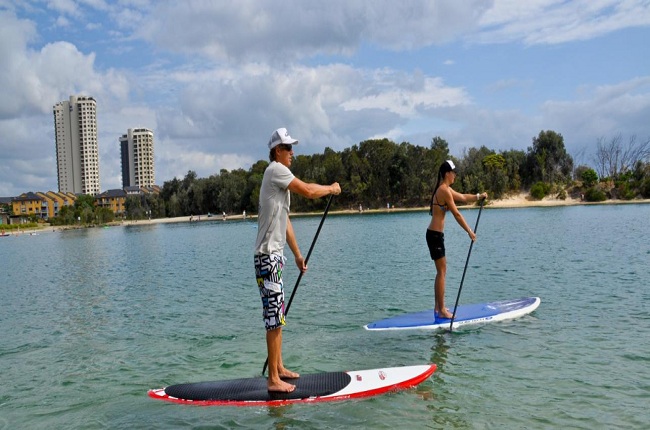 Paddleboarding is one of the most entrancing water sports. The person stands on a board (With no support or string this time!) and canoe on the surface of sea. So balancing is the key and off course, courage! But it will be worth it all. This sport needs more training than others, so if you are a beginner assure that you are well equipped and follow the instructions of the coach.
Location: Rajbaga Beach, Mabor Beach and Candolim Beach.
5.Kayaking
Kayaking is for those who do not want to indulge in very thrilling activities, it is calmer and yet enjoyable. In Kayaking, you sit in a small boat and handle the oar. Explore the Goan shores at your own pace. Some of the clubs that offer kayaking facilities are Expeditions Picnic, Kayak Races, Day Outings, River Kayak Festivals, Moonlight Kayaking, Barbecue and others. During Kayaking you will be required to wear a life jacket, and must avoid getting deep into the sea especially when the waves are unpredictable. Kayaking should be not performed during rainy season.
Locations:  Dauna Paula Jetty, Hollant Beach, Palolem Beach and many other spots.
6.Water Skiing
Water skiing is rather more thrilling. You stand on a surf boat and it is tied to a speedboat. This water sports activity requires attention to balancing and swiftness of the body. You will be able to give your best if you are physically fit. For waterskiing you will have to wear a life jacket and wet suit. Make sure you listen to the instructions of the coach carefully before going in, double check the gear and you are good to go.
Locations: Candolim Beach, Baga Beach, Calangute Beach, Arossim Beach, Mobor Beach and Utorda Beach,
7.Windsurfing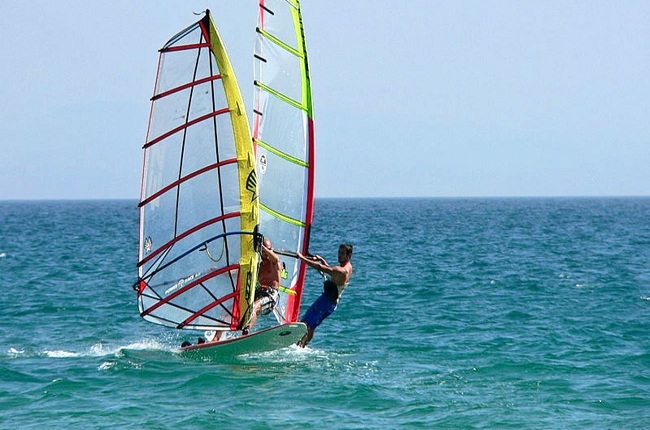 This is amongst the most popular water sports activities of Goa. A windsurf boat is about 2 to 4 meters tall with a sail attached that makes it work. Balancing is essential in windsurfing, and you must be able to control the sail as per the wind directions. When you are set for wind surfing after wearing wet suit and life jacket, make sure you check your harness, cords and other things.  Follow the instructions of the coach and avoid this activity during monsoons.
Locations: Dauna Paula Beach
8.Yachting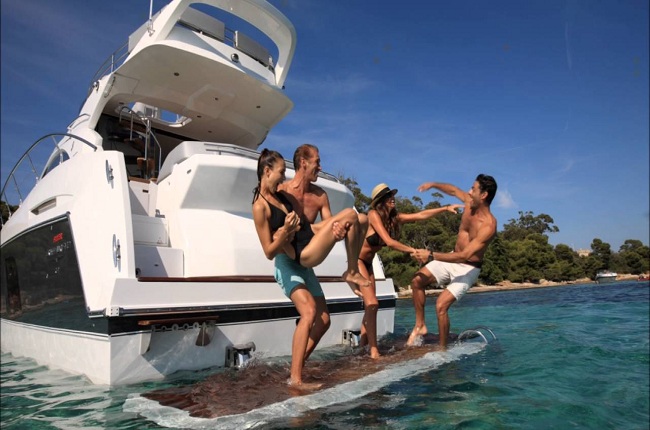 Yachting is a soothing activity and gets you in acquaintance with the tranquility of ocean. While you are on a yacht, you can enjoy sunbathing, fishing, eating; ANYTHING. There are no safety measures or skills needed for this, but do carry a life jacket, swimming costume and other safety equipments.
Locations: Miramar Beach, Candolim Beach, Mandovi River, Mayem Lake and Palolem Beach.
[Click here for Beach Resorts in Goa] 
01
Dec
Posted:
December 1, 2014 Monday at 3:20 pm